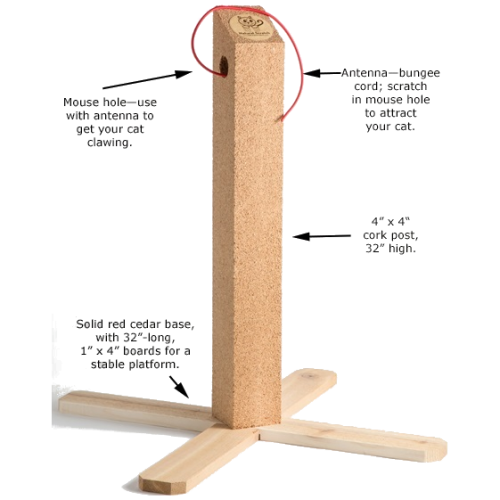 Natural Scratch™ 32″ Cork Cat Scratching Post
$69.95 (shipping included) CURRENTLY OUT OF STOCK—SORRY.
Cork is a spongy material that allows cats to sink their claws in deep; some felines prefer it to other materials used for cat scratching posts. Shipping cost included.
To buy direct, visit your PayPal account and send a payment of $69.95 to ted@naturalscratch.com; be sure to specify the product you want and include your shipping address and an e-mail address.
To order with a credit card, please click on the button below to purchase at Amazon.
Natural Scratch 32″ cork posts are made from the bark of cork oak trees that grow in Portugal; the bark is ground and pressed into slabs. It's the same production method used for bulletin boards and other cork products. Tall, 32″ height allows your cat to stretch while clawing. The rough-side- up red cedar, X-style base is equivalent to a solid 24″ square – a stable foundation for aggressive clawing by all cats, even large Maine Coons. (Wobbly posts are a feline turn-off!) Features such as the bungee-cord Antenna and 1.5″-diameter Mouse Hole help people interest their cats in Natural Scratch and get them clawing. The easy-to-read-and- use booklet Training Your Cat To Claw Natural Scratch teaches customers how to train cats to claw Natural Scratch exclusively and includes tips on how to discourage inappropriate clawing. Cork is an attractive material cats enjoy whittling into works of art.
Features
Natural Scratch cork™ 4" x 4" cat scratching posts have a single bungee-cord Antenna on top and a Mouse Hole. Both are designed to help you attract and train your cat. Click for more information on the easy-to-use training booklet that comes with every Natural Scratch product
Natural cork, 4″ x 4″ x 32″ solid post
Large and stable rough red cedar base that may be clawed horizontally
Bungee cord toy to encourage clawing during training
1.5″ diameter Mouse Hole for treats and catnip
Includes Training Your Cat to Claw Natural Scratch—an easy-to- use, effective training method